Wapogasset Lake Stats
Acres: 1,189
Max Depth: 32 feet
Mean Depth: 17 feet
Bottom: 60% sand, 25% gravel, 0% rock, 15% muck
Fish Species In Wapogasset
Musky (Present)
Northern Pike (Present)
Walleye (Common)
Largemouth Bass (Common)
Panfish (Common)
Watch us Fish Wapogasset in early January
Boat Landings At Wapogasset
The DNR website shows two public landings. We used the one at Sunrise Beach. Its located on the northwest side of the lake.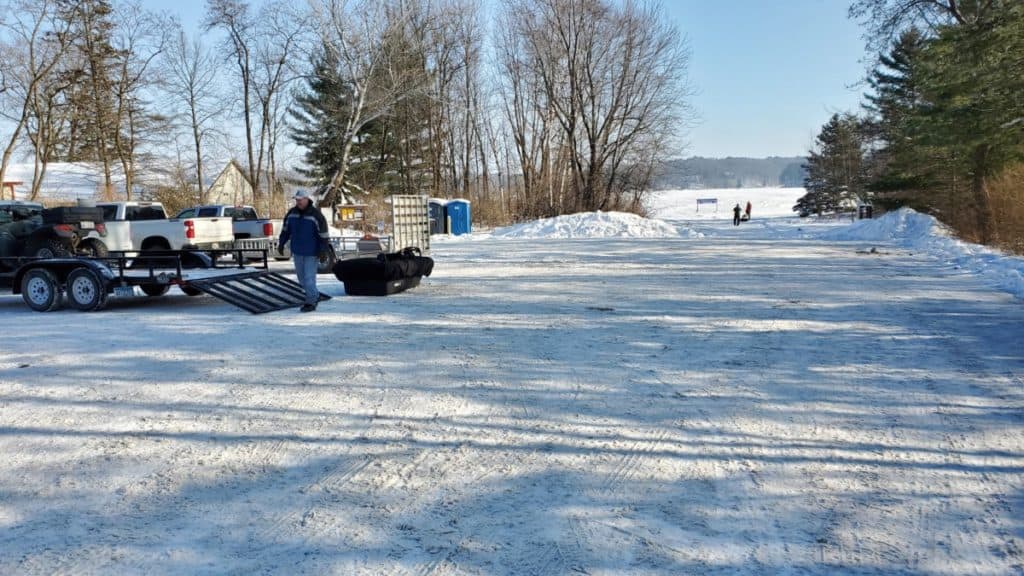 This was a nice landing, with plenty of space to park. It is also at the north end of the lake where I wanted to fish.
The other landing is on the southwest side of the lake. I did not visit this landing, but it also looks nice.
While fishing on the north end, I noticed a lot of traffic was entering the lake from the Waterside Bar & Grill.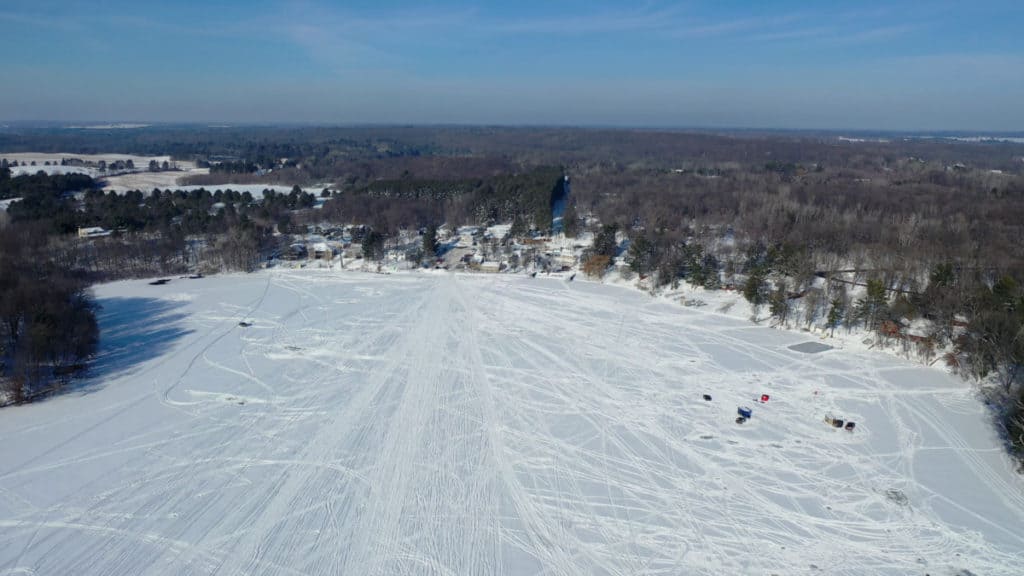 I don't know if they charge a fee to use this landing, but it might be a good place to check out if you want to start on the north side.
Commentary About Wapogasset
Wapogasset is located in Polk county, near Amery, Wisconsin. Although it might not be considered as good as Balsam, or Bone lake, its not far from it. Wapogasset is in an area known for good fishing, but with only moderate fishing pressure. There are good numbers of recreation boaters here, especially on holidays and weekends. I was here in January, and there were still plenty of people here, just having fun spinning circles on the ice.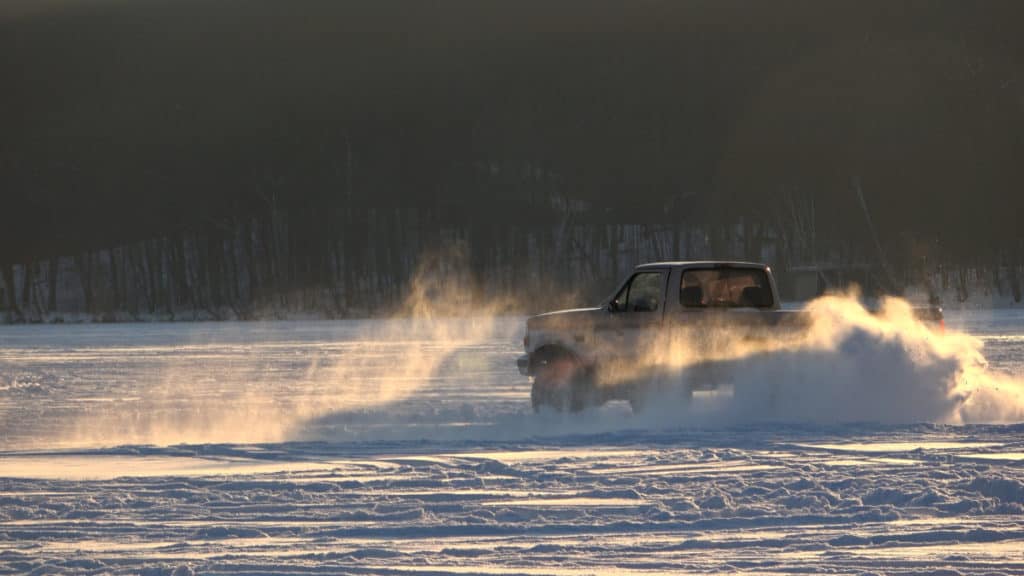 Wapogasset has good numbers of largemouth bass and panfish, low numbers of walleyes, and the possibility of a trophy muskie. This is a class C, category 3 muskie lake, so there aren't large numbers of muskies, but you have the possibility of catching a big one.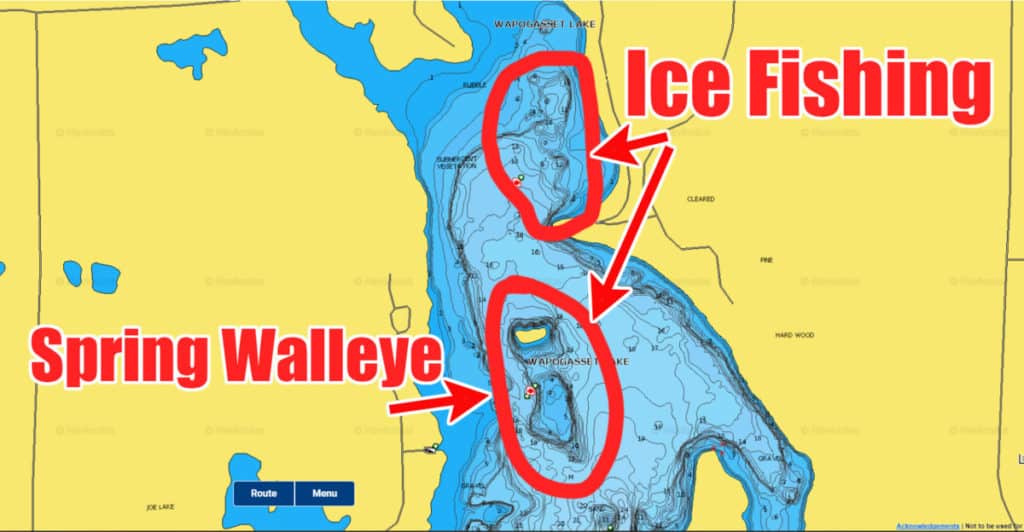 If you are fishing on the north end, here are two spots to try out. Try for early season walleye around the small island. This is also a spot where I seen lots of ice fishermen. On the far north end, was by far the busiest spot for ice fishing.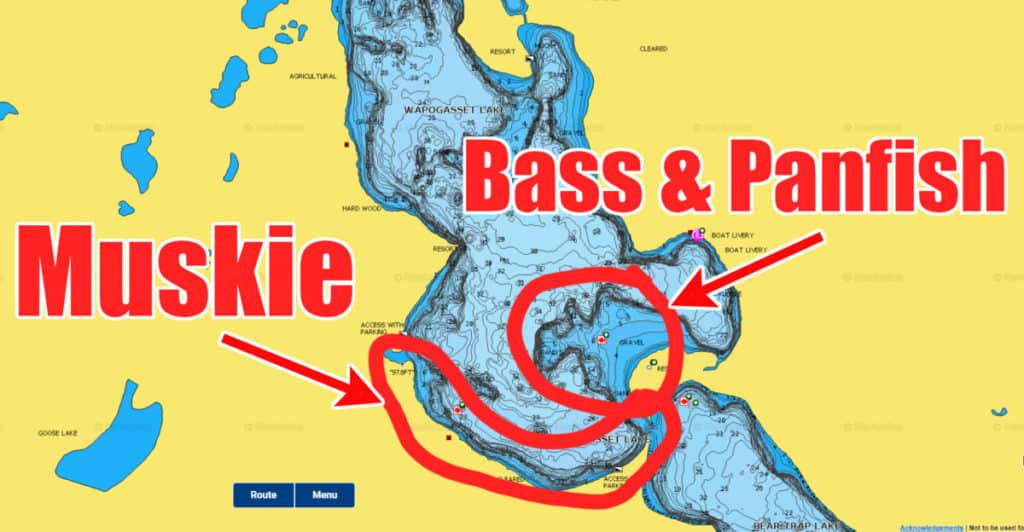 Fish for muskies along the west shoreline with jerkbaits and bucktails. In late summer and fall, try a sucker minnow near the channel to bear trap lake, or along the edge of the south bay. The shallow shelf protruding out from the bible camp resort will hold bass and panfish.
On the far south end is Bear trap Lake. It connects to Wapogasset through a narrow channel that you can navigate a boat through.
Fishing Experience On Wapogasset
I ice fished here with Reggie in early January. This was my first time on this lake. I checked the maps and gathered as much info as I could. I use the Sportman's Connection Fishing Guide Book. I determined the north end of the lake around that small island would be a good place to start.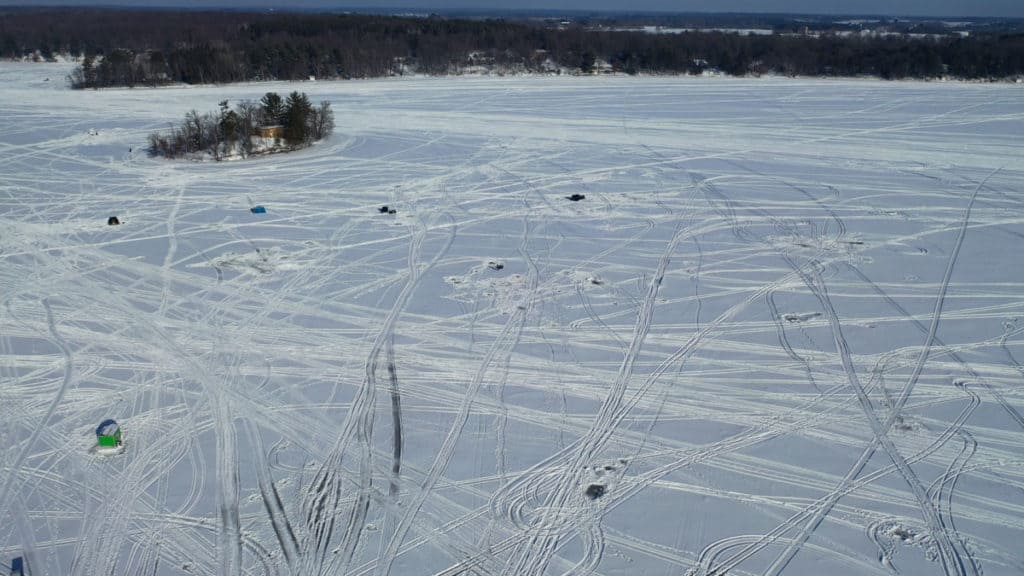 I noticed right away that most fishermen were gathered near the north end of the lake, so that confirmed my research. We tried a couple of spots near this island. We saw a few perch, and I almost caught one of them. I got a good look underwater with my Aqua-Vu camera, and noticed the bottom was barren, with no weeds in sight.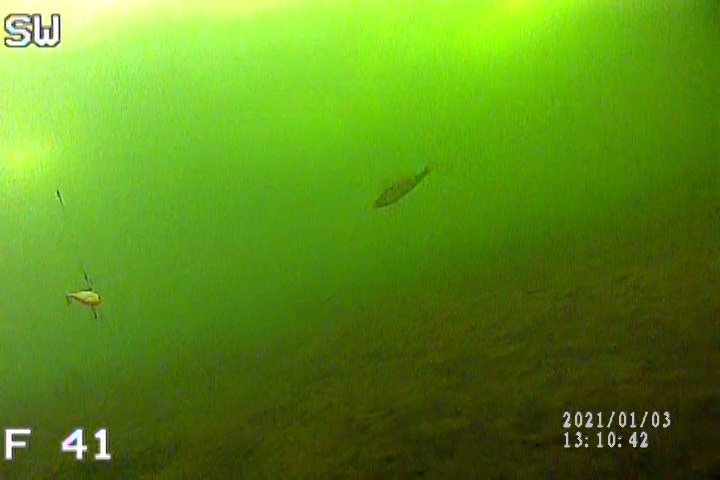 We soon moved further north, where most of the people seemed to be fishing. Even though the ice seemed a little thin, there were plenty of trucks and ice shacks gathered together.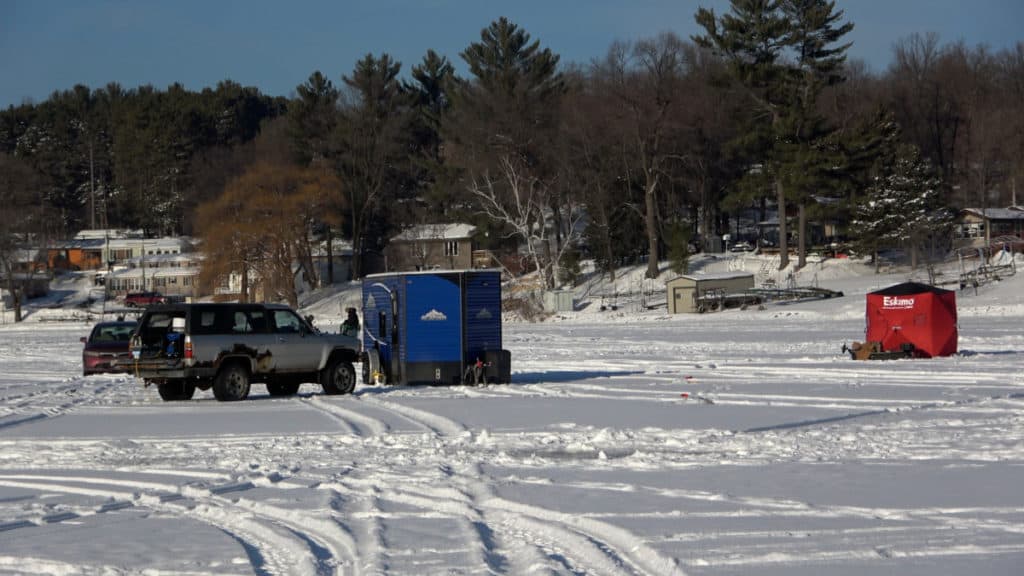 As soon as I dropped the camera down, we started seeing fish. Mainly northern pike, and lots of them. I also noticed a nice weedy bottom.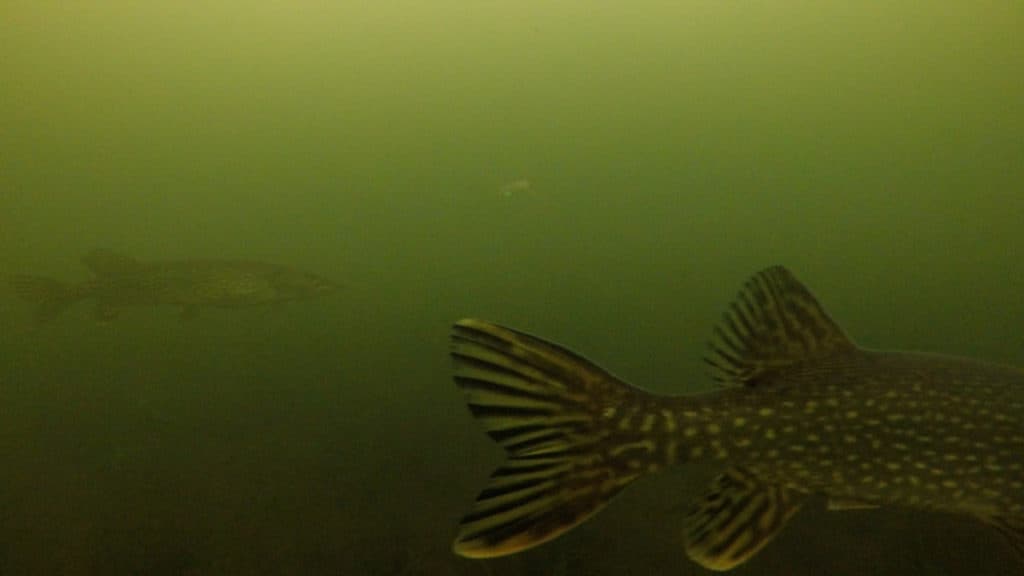 The water clarity is low. I was fishing with a robotic lure on a tip up to see if it actually works. You can barely see the lure in the center of the photo. It is only 6 feet away from the camera. There is actually a third pike to the right of these two. If you are interested in how I capture HD underwater footage, see my post here.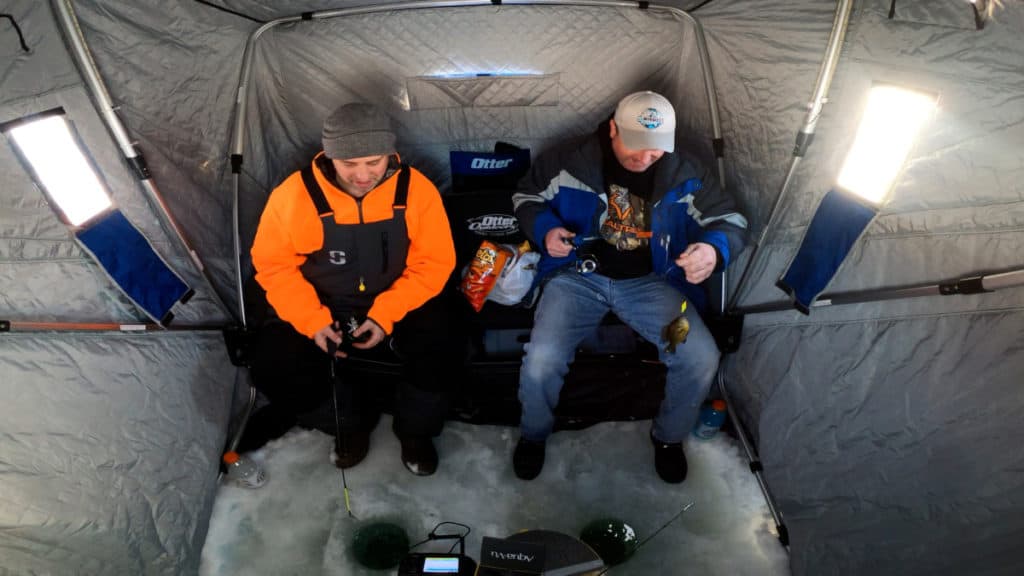 Reggie was trying for a bluegill with no luck, so he switched his bait to a larger jig, and immediately caught one. We had the northern pike go by several times, but they couldn't have been less interested. We even saw a musky once or twice, but didn't catch him on camera.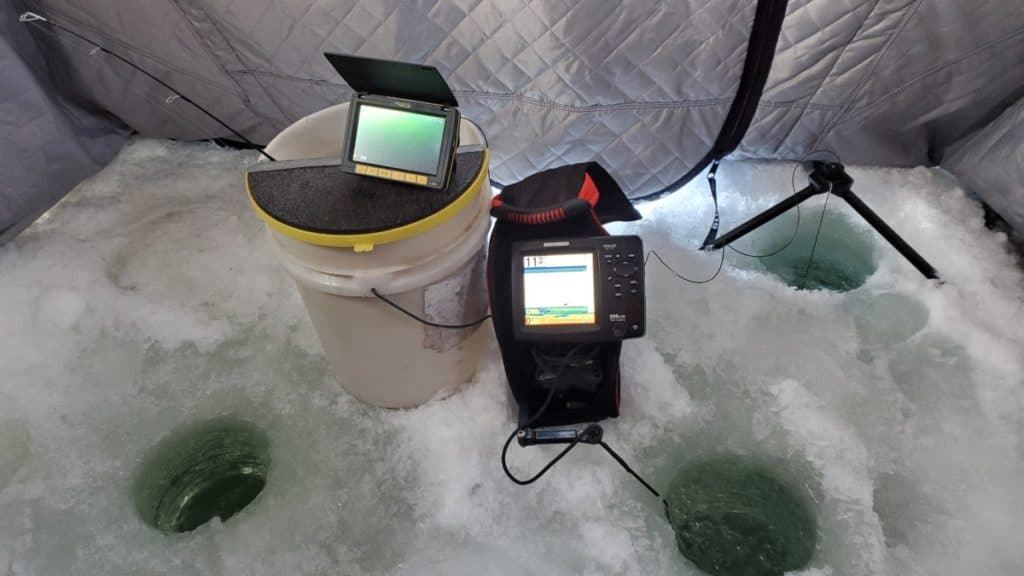 Above is my set up inside my ice shack. I use a Humminbird 598 fish finder, and an Aqua-Vu Revolution Pro underwater camera. My fish finder is an older model. Most people now use the Helix models. Its interesting to see what the fish finder shows, while comparing it to what I actually see on the camera. It gives me a better understanding of how to read the fish finder, and I will admit… its fun to watch!
Thanks for visiting Go Midwest Fishing Lake Reviews. While you are here, check out some other interesting article like, "Cargo Trailer to Ice Fishing House." Also, come hang out with us on my YouTube channel here.