Lake Stats
Acres: 578
Max Depth: 20 feet
Mean Depth: 7 feet
Elevation: 1,436 feet
Lake Type: Drainage
Nearest Town: Clam Lake
Fish Species
Muskie (common)
Largemouth Bass (common)
Panfish (abundant)
Check out this video for some awesome Day Lake musky action!
Here is a compilation video of fishing Day Lake over many years
Landings
Day lake has one landing on the south end. Off County Rd M, turn onto Day Lake Boat Landing Rd. When the road comes to a "Y", turn left onto Dump Rd. If you go straight, you will end up at the beach/picnic area.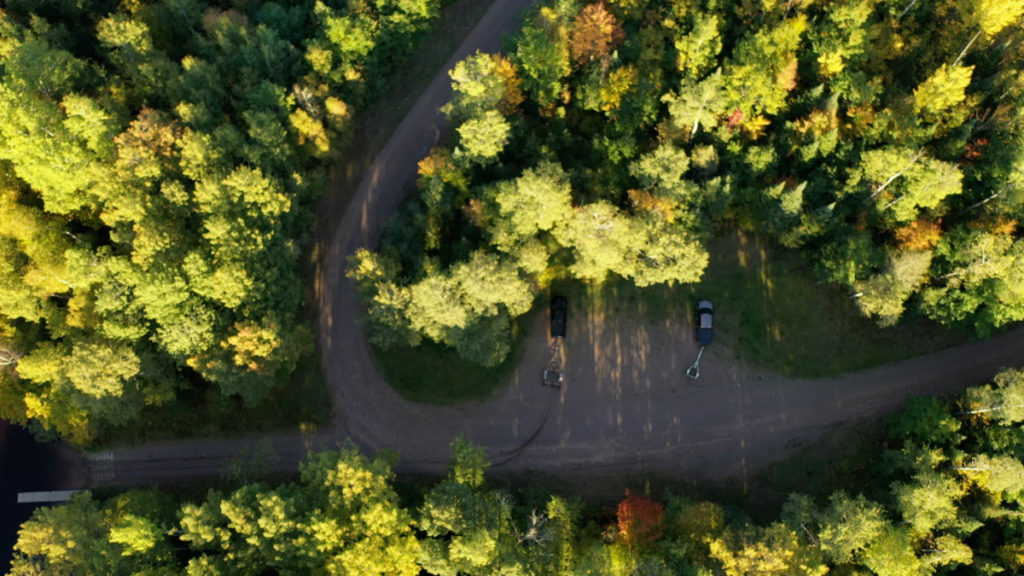 You will rarely find more than four other vehicles here. We are usually the only ones out there. It has a nice big landing area. It is on a gravel road that makes a large circle at the end. There is room for 6-8 trailers, but I'm sure it rarely fills up.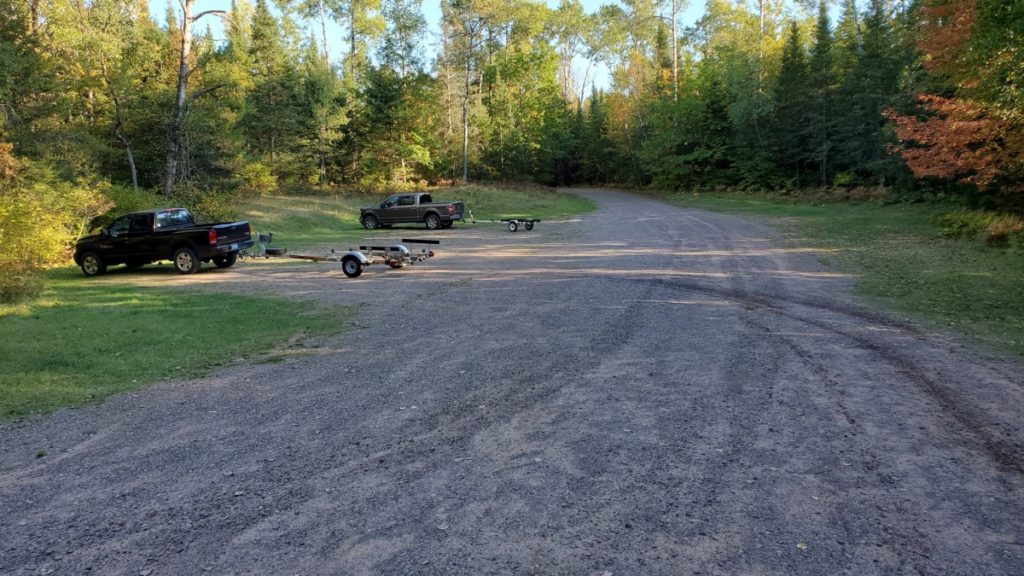 You will have to back your boat up about 100 feet down a fairly steep hill.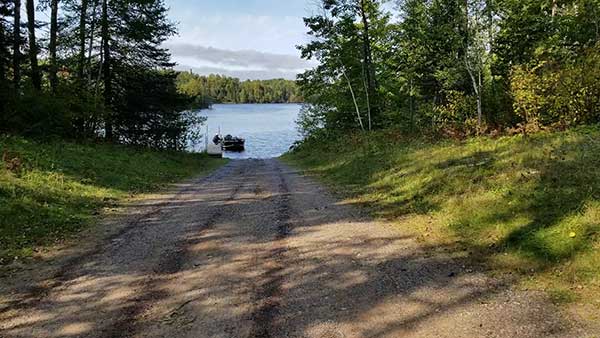 The water is plenty deep at the landing and it has a nice dock to make loading easy.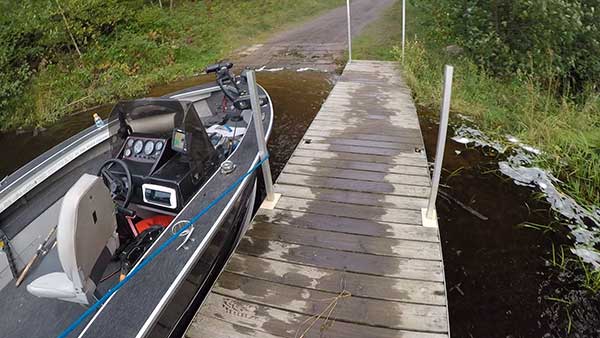 Commentary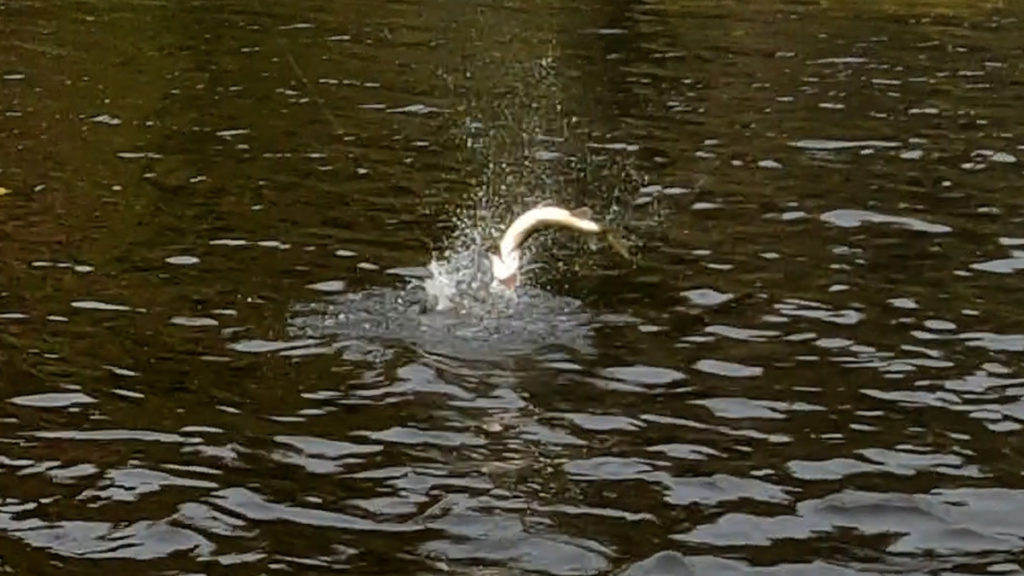 If you are looking for muskie action, Day Lake is the place to go! They are not big, but they put on a good show.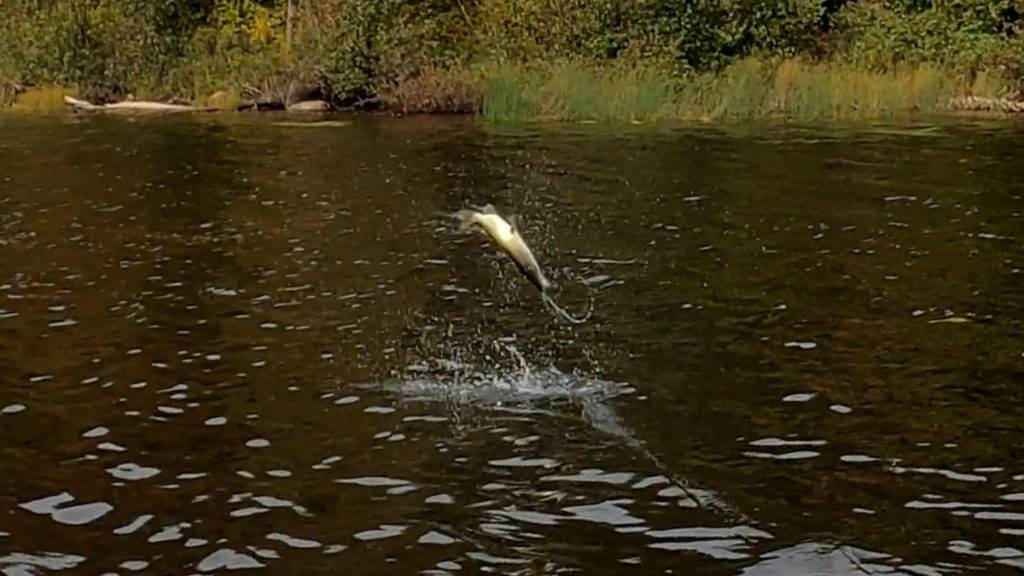 We discovered Day lake by accident. We were on our way home from a week long fishing trip to northern Wisconsin. We left our campsite early in the morning thinking we could hit one more lake on the way home. We found this one on the map and figured it looked okay. The sign at the landing showed it had muskies in the lake. We've never caught a muskie and weren't actually trying to catch one, so we were both surprised when Reggie hooked into one in the far end of the lake.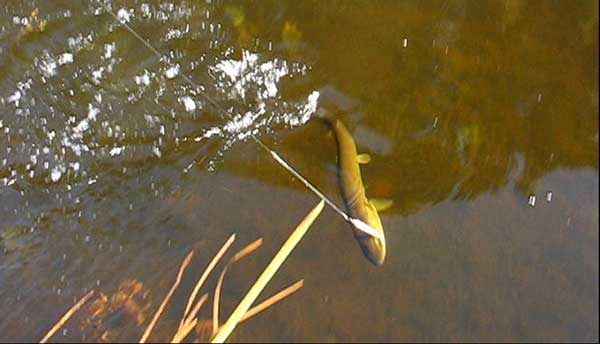 We got so excited about it, that we went to the store and got ourselves loaded up with muskie gear. We have been pursuing this giant of a fish ever since. We quickly realized that catching a muskie is much harder than this lake lead us to believe. To this day, we keep coming back here to boost our moral whenever its been a while since catching one.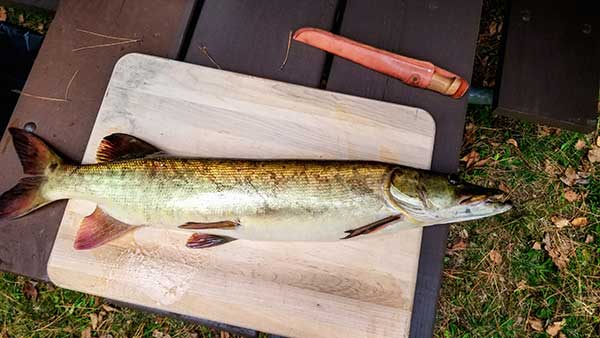 So the first thing to note about this lake is that it is full of small muskies. It has a size limit of 28 inches because you will have a hard time finding one bigger than that. There are some lunkers in here, but they are far and few in between. If you catch one in the mid 30's, you're having a good day. We don't come here to catch trophies, we come here to catch fish.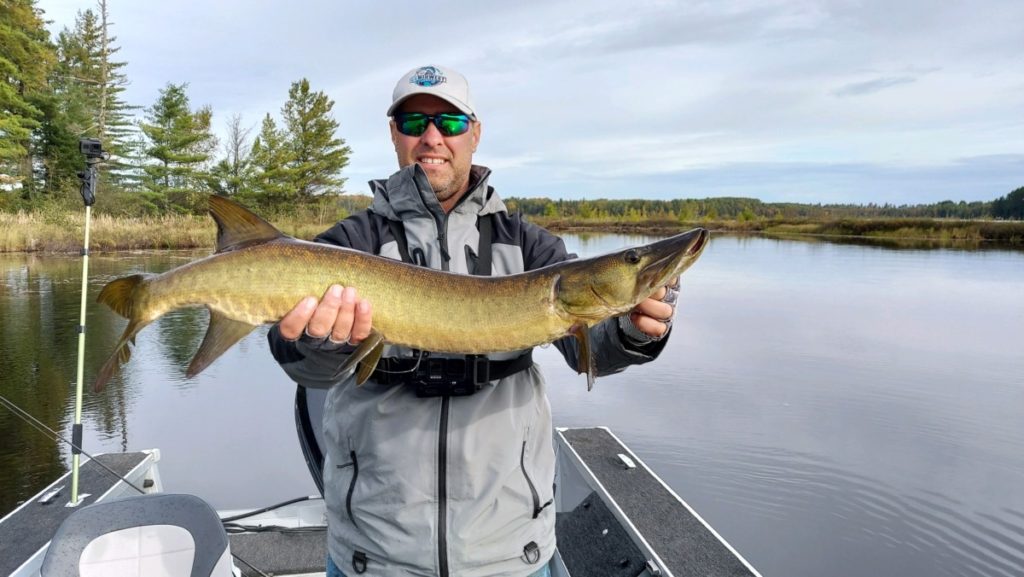 For those of you who are mortified to see a muskie on a cutting board, don't worry, its OK. Since there is an abundance of small muskies in this lake, it is actually encouraged to keep a few to eat. Fresh deep fried muskie in a Cajun shore lunch cooked right at the campsite was some of the best fish I ever ate.
Here is a quote from a local fisherman:
Thank you for taking advantage of the low size limit and keeping some musky! Day Lake is one of the few lakes where musky are so abundant they are skinny and don't grow. Has been this way for 20+ years. Also, when they draw the lake down to kill weeds every few years, it doesn't kill the fish. I've done just fine out there after the draw down, maybe even better cause less weeds. The winter of 2013-2014 was so severe though that there was a big bass winterkill but they are back now! Also try Potter Lake, Mineral, and English. Tons of musky too. Good luck! I live up here so let me know if you need any more info.
If you have never been to this lake, a word of caution.. This is a flowage, so there are numerous things to run into under water. It has many floating bogs that are constantly changing position. You will also find random floating or sunken logs. I'm talking like whole trees, just barely peeking above the surface. We found this out the hard way while going full speed back to the landing in the dark. Suddenly our motor slammed into a 12 foot tree trunk hiding just under the surface. The motor flew up in the air as we came to a sudden halt.
If there is one lake in the world I would not want to fall into in the middle of the night, it is this one! It gets quite scary out here in the pitch black. Luckily we were able to make it to shore without sinking. So go slow. Make a GPS track on your fish finder, if your capable of doing so, and follow that back.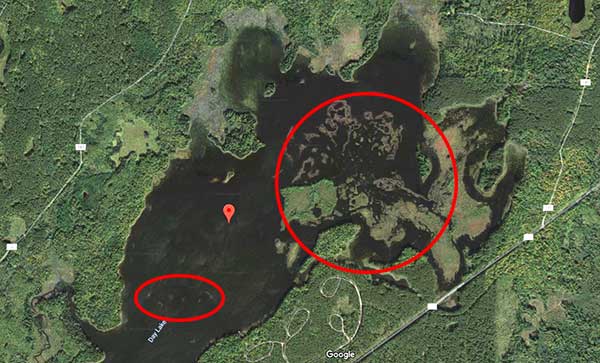 Most of the obstacles are on the north end, but there is a small spot right in the center of the lake that usually has a couple of bogs floating around.
Fishing Experience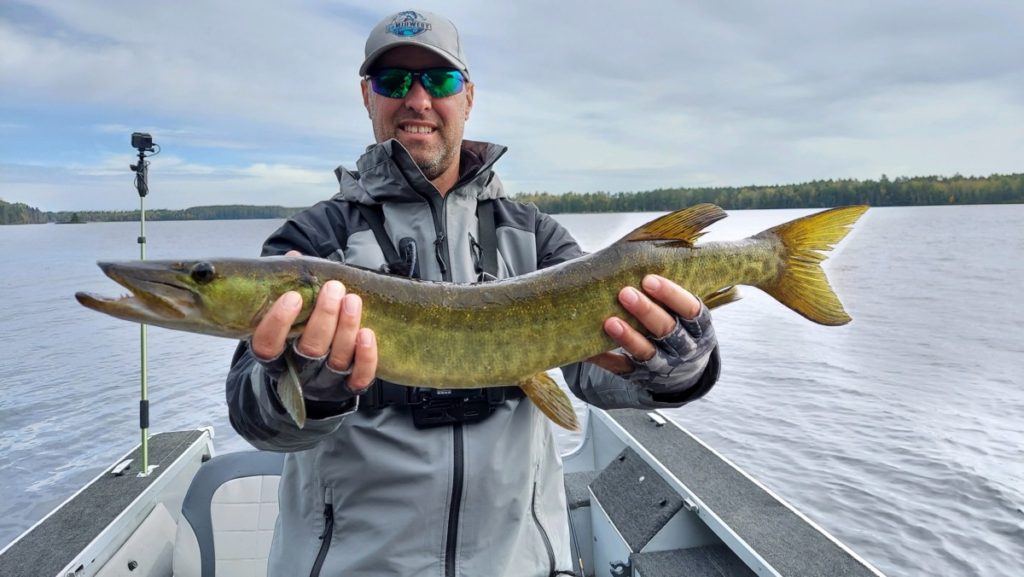 The first couple years we started fishing this lake, we came here because it was a guaranteed muskie catch. Then one year, it just shut off. We didn't even see a fish for three days straight.
After doing some research, we found out that the Department of Natural Resources occasionally drains this lake to kill off the weeds. We were there the year after it was drained and caught nothing, so we assumed all the fish were dead and didn't come back.
Then we saw someone write a fishing report about Day lake saying they caught a bunch of fish? We had to go back and check it out for ourselves. We ended up catching a bunch of fish, and declared Day lake was back on our fishing schedule.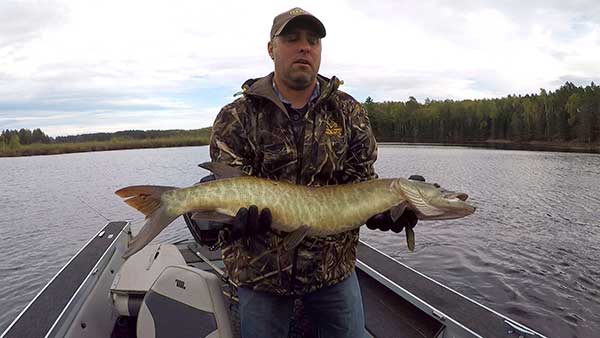 There are only a few spots that seem to hold enough fish to make it worth fishing. The bay by the landing will hold a few panfish and some bass, although not really worth your time unless you fish it on your way out.
Just past the landing bay, up the west side, we've hooked into a few muskies. Usually worth a few minutes of your time. The main area to fish, and where you will spend most of your time is on the far north side. There is a large shallow area on the northwest end that holds some perch. I also caught a large bass there, so it's worth checking out.
Then on the northeast end, we've had good luck with the muskies. And finally, the very shallow small bay on the east side where the trails from the campground come down to the lake. There seems to only be one or two fish holding in here at a time, and you can usually spot them.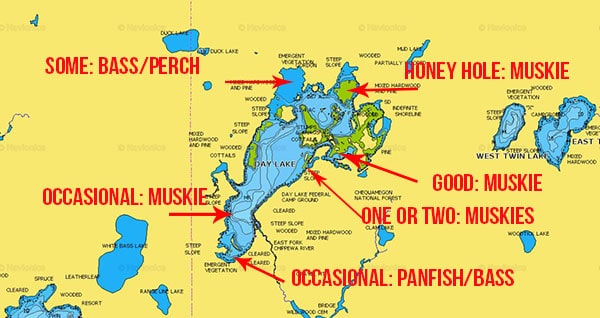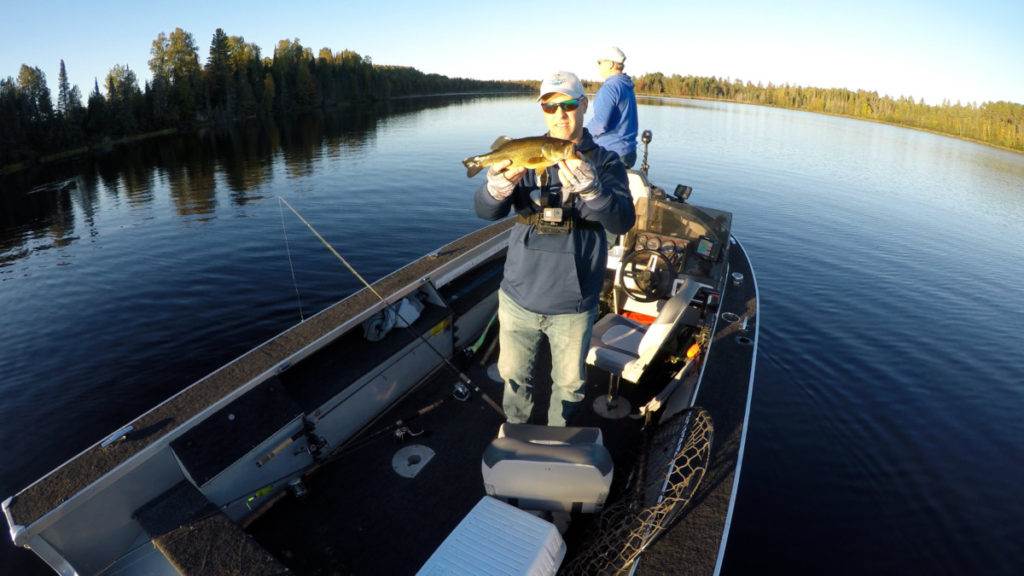 If you are looking for lake without much fishing pressure and some outstanding scenery, then I would recommend coming to Day lake. The water is a dark stained red color, which makes obstacles underwater hard to see, so I'm giving you one more warning to go SLOW and watch for hidden hazards.
Take a tour of the Day Lake campground
We always stay at the Day lake campground located beside the lake. The campground does not have lake access other than some walking trails, so you will have to drive around the southern tip to access the landing road. The campground is awesome, if you like the primitive lifestyle.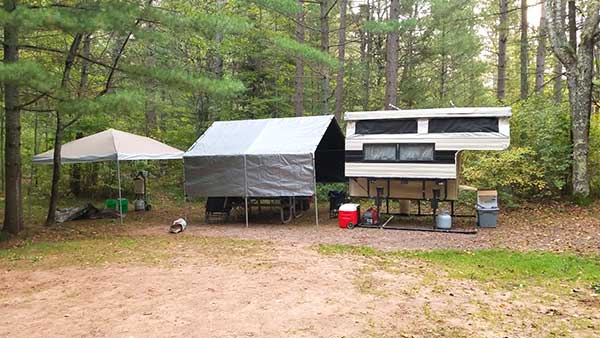 There is a gas station nearby where you can get all your goods. They mentioned traffic has really dwindled over the years. Their reasoning is because of all the technology at campgrounds these days, nobody wants to camp somewhere that doesn't have WiFi or electrical hook ups. The fact that it doesn't, is the reason I like it. You can really connect with nature out here.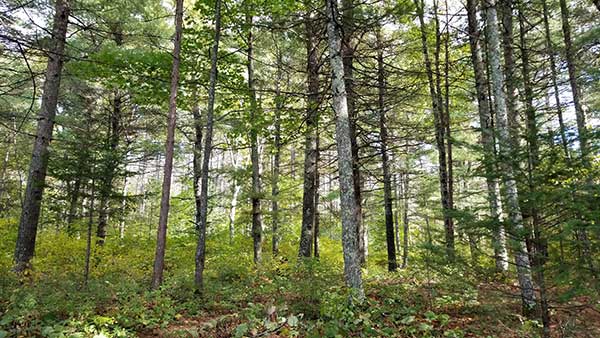 The campsites are spread out and are very large. The whole place is engulfed in giant pine trees, blocking out all light except the moon. At night, it lets you know you are all alone in the middle of nowhere. When going to use the restroom in the night, we carry a hatchet in one hand, and a flashlight in the other.
On one occasion, Reggie went out at night and heard something lurking in the bushes. As he was running, he fell into the ditch beside the road making a loud crashing sound, which prompted me to lock the doors on the camper. He wasn't too happy about trying to quickly get into the camper with the doors locked.
Thanks for visiting Go Midwest Fishing Lake Reviews. Also, check out our other articles, like "The Best Coleman Lantern." Meet us personally on my YouTube channel.