Lake Stats
Acres: 244
Max Depth: 63 feet
Mean Depth: 30 feet
Shoreline: 4.32 miles
Fish Species
northern pike
walleye
largemouth bass
bullhead (black, brown, yellow)
black crappie
bluegill
hybrid sunfish
pumpkinseed
yellow perch
rock bass
lake whitefish
burbot
bowfin (dogfish)
white sucker
Watch our day of fishing on Leighton Lake below, June 2018
Landings
This is a small lake with one landing at the intersection of Hwy 6 and 28. Its a straight gravel road with a turn around near the boat launch.
For being a small lake, it has a decent landing area. The ramp is concrete, but there is no dock. The water is fairly shallow so plan on getting your feet wet.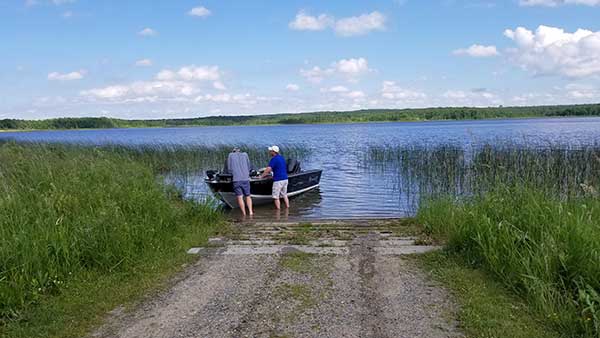 We were the only ones here on this day so it was quite easy getting in and out of the water. There is room for a couple of vehicles, but it could get crowded real easy if a bunch of fishermen showed up.
Commentary
This seems to be one of those lakes that can be easily overlooked. This was our first time on this lake, so we had no idea what to expect. It has fairly steep shorelines with the classic bowl shape, being the deepest in the center of the lake. We noticed the nice reed covered shorelines which tend to hold northern pike. I also like these smaller lakes because they are easy to fish.
Maybe it was a good day to fish, but we had non-stop action all day. The fish are on the small side. Northerns were averaging 20 inches and the bass varied from about 3 inches, up to our biggest one at 17.5 inches.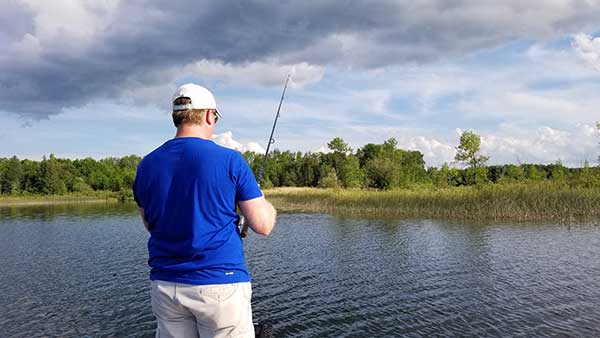 Its a beautiful lake, with nice clear water and beautiful shorelines. Northern and bass seem to be abundant and hungry. We saw quite a few panfish too, mainly perch and bluegills. The stats say there are walleye in here, but we didn't try for those. If you are looking for trophies, you probably won't find them here, but if you want lots of action and have a lake to yourselves, then I highly recommend Leighton Lake. It would be a great place to bring the kids too.
Fishing Experience
I loved this lake! We fished here at the end of June as part of a five day fishing trip. We were camping at Schoolcraft State park, which is only a couple of miles down the road. We drove by here a couple times and decided to check it out. It looked like a good northern lake, and we were right. We caught plenty of small pike, which are nothing to brag about, but they were a lot of fun to catch.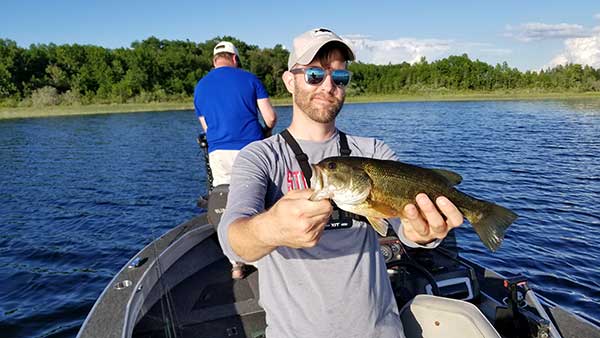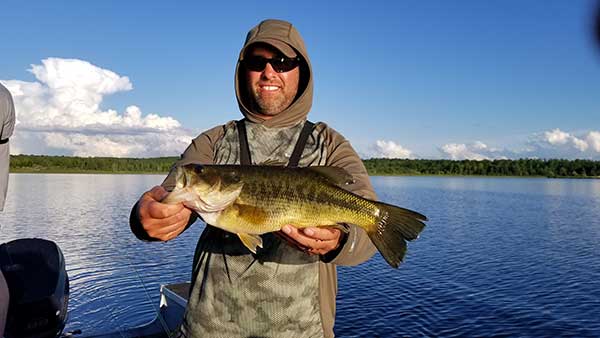 We caught plenty of bass too. Most of them were on the small side, but we brought in a few that were worthy of a picture. From the landing, we headed south casting into the shoreline. The southern end goes into a long channel that gets very shallow and weedy. We tried going down this channel, but proved not to be worth fishing.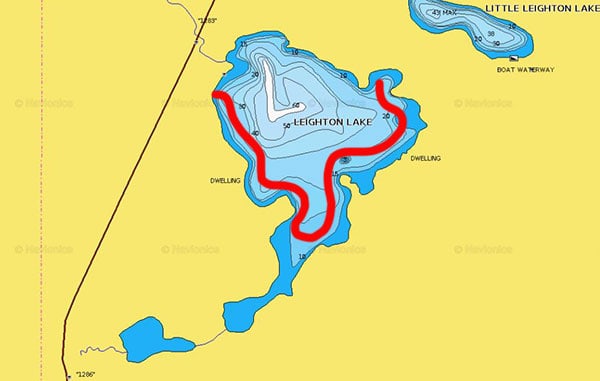 We didn't have time to hit the north part of the lake. That's the deeper end with steeper shorelines. Maybe that is where the walleyes hang out? If I make it up that way again I may have to stop by and try the spots I missed.
Thank you for visiting Go Midwest Fishing Lake Reviews. Check out other interesting articles like, "The Ultimate Guide To Fishing Line." Come hang out with us on my YouTube Channel.